There is a community of women, young and old, new mothers and empty nesters, wives and girlfriends who have arrived at the same breaking point in their relationships: Their men are paying to see other women get naked.
In Chicago, attorney Dominique A. Buttitta made headlines when she sued her fiancé Vita V. Salerno for $100,000 because he engaged in "flirtatious and amorous acts in public," which included lap dances and other contact with strippers. Even worse, Salerno got cold feet and ended their relationship, Buttitta sued for the money she spent. Salerno countersued for the three-carat, $45,000 engagement ring that Buttitta kept.
Buttitta wasn't the only jilted bride who sued; Lauren Serafin, yet another Chi-town attorney, also sued her ex-fiance because he had sex at his Vegas bachelor party.
"Women of Chicago, here's some friendly advice: don't let your men have raunchy bachelor parties," advises law blogger David Lat.
Why, then, do some men cheat with strippers? Perhaps you must decide why the man visits the strip club.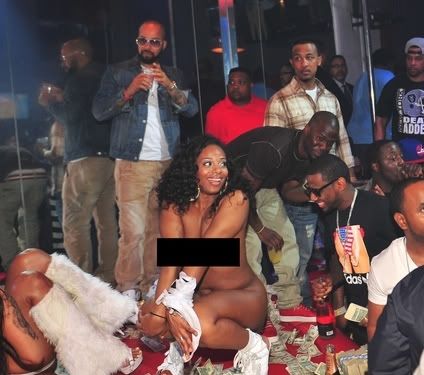 He Says: Visiting the strip club is not really cheating.
In this regard, spending time at the strip club (and away from you) is not cheating in a man's mind because they're great at compartmentalization. That is, what happens in the strip club stays there, and has nothing at all to do with his relationship at home.
Truth be told, the strippers compartmentalize in this way as well. Most dancers have boyfriends and husbands at home and the dance is a performance for money received, that's it.
Typically, the stripper doesn't want your man anyway, she's at work. She's working her body and working his mind, according to blogger Stripperati:
"I'm dancing to a secret, embodying something emotional while projecting only faked lust. I only let them see what I decide to share. And I can be one thing, while they're seeing another."
He Says: Visiting the strip club is good for your relationship.
Men tell women that the occasional visit to the strip club is harmless, as dancers are not allowed to touch customers. In fact, the strip show is something that is for your benefit, as the dancers will tease your guy with fantasy so that he can bring his best moves home to you.
He Says: He needs to 'escape'.
If the guy visits the strip club to escape a stressful situation at home or work, a room filled with beautiful naked women is the closest thing to Fantasy Island for him.
"I've been to strip clubs twice in my life both in different circumstances but both for the same basic reason," a man posts on the blog Letters From Men Who Go to Strip Clubs. "To prove I could do it, sit in a testosterone filled room and pretend the women there wanted to dance for me because I am a man."
He Says: The strip club is where the business deals are made.
Men are often in a good mood at the clubs and that is where deals are made (when they are not made on the golf or tennis courts).
He Says: I want sex, no strings attached.
Some Gentleman's Clubs have a VIP room, where sex acts do occur and the boundaries between dancing and prostitution aren't so clearly defined, says Luther Campbell:
"This girl — we'll call her ATL because she's from Atlanta — says dudes cut deals with the [strippers] before they go to the backroom. A guy will let a [stripper] know that he is going to make it rain on her when she's onstage. When she sees the money fluttering all around her, then she knows what she has to do.

ATL has worked at all the big strip clubs, such as Coco's, King of Diamonds, and Tootsie's Cabaret. There was a day when ATL would get on the top stage at any one of those titty bars and make $300 or $400 dancing to one song. Now she's lucky to collect $10. More and more, girls are dancing less and just having sex."
The bottom line: You have the option to ignore it, seek professional help (if your spouse has an addiction to strippers), and/or get with the program, and bring some dance moves into your own bedroom.